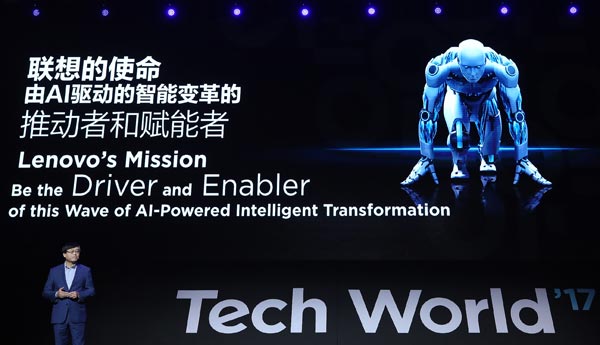 Lenovo Group Ltd announced its teaming up with JD.com Inc, China's second biggest e-commerce player on Thursday, July 21, to build a big data platform as the two make joint efforts to tap into opportunities brought about by artificial intelligence.
The strategy is part of Lenovo's broader push to leverage AI to breathe new life into its PC, smartphone, data center, and other hardware businesses.
Yang Yuanqing, Lenovo Chairman and CEO said JD has accumulated huge amounts of e-commerce data from consumers who love buying electronics online, while Lenovo knows how millions of its devices are being used every day.
"When the two types of data are analyzed, they can generate big value, such as predicting exactly how many computers will be in demand next month," Yang said.
"It can help Lenovo better manage the supply and demand of our products."
Both companies aim to sell 80 billion yuan ($12.04 billion) worth of consumer electronics in three years, up from the 60 billion yuan target they promised last year. Liu Jun, president of Lenovo's China unit, said personal computers sales alone would reach 60 billion yuan. Mobile phones will account for 15 billion yuan, with the rest generated from other smart devices such as speakers.Lenovo is stepping up its investments into new technologies, including AI, in an effort to reduce its reliance on PCs and to revive its tumbling smartphone business.
The company said in April that it would pour $1.2 billion into research and development of artificial intelligence, the internet of things, and big data over the next four years.
Photo by: Kārlis Dambrāns / Flickr